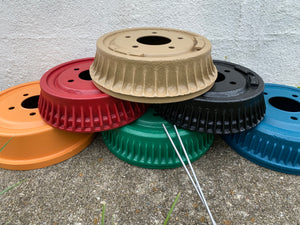 Wendeln Music Works
Brake Drum (The Iron)
Regular price
$49.99
$0.00
Unit price
per
In a steelband, "The Iron" is an instrument used for rhythmic accompaniment and makes a sharp metallic "ting" sound. In early steelbands, players would use anything they could find (scrap metal of all types) for this purpose. Today, you see many bands using old vehicle brake drums for a great "clean" sounding metal tone. 
This item includes one brake drum that has been de-rusted, cleaned, painted, and is ready to be used in your band. Includes one pair of "beaters" (thin metal rods for playing). Paint color will be random. (Email us if you have specific needs in regard to tone or color, and I can try to work with you!)
As for shipping, this big chunk of metal weighs about 15 pounds, and depending on WHERE we are shipping, costs around $25 to ship. We've automated a $25 shipping cost, but we'd be happy to look into custom shipping or pickup options if needed, just let us know! 
Finally, it is simply an old car part that's been cleaned up and painted to the best of my ability. The paint will wear, especially on the top with metal sticks beating on it! If this is an issue, simply get some spray paint and touch it up as necessary. 
As usual, email us if you have any questions. 
---